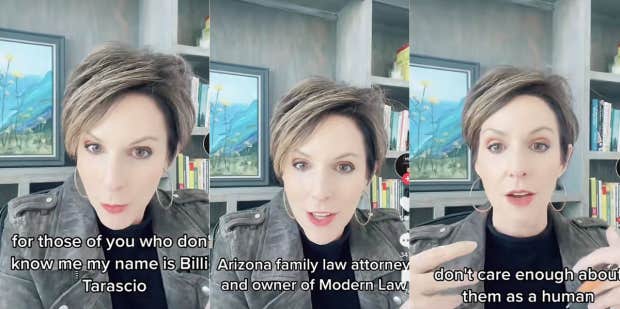 Law Firm Owner Defends Hiring A Legal Assistant Who Will Also Provide Childcare For Female Lawyer
The head of a law firm is defending a job posting her firm shared after it began to gain backlash online.
Twitter users blasted the Indeed job posting which advertised a "legal assistant/childcare" opening. 
"We are looking for a legal assistant to work directly with a designated attorney on client's cases, as well as provide as-needed childcare for the attorney," reads the job description from Modern Law PLLC in Arizona.
Amid the outrage, the woman behind the firm who posted the job is defending her decision, claiming that people should be able to establish a balance of juggling different tasks at work and that the job was a "progressive" one that is beneficial in today's society. 
The woman wants to hire a legal assistant that will also nanny for a lawyer that often needs to pick up her children from school. 
In a TikTok video that has been viewed over 44,000 times, Billie Tarascio, the owner of Modern Law — a family and divorce legal company — explains the recent job posting that landed her in hot water on Twitter and Facebook. 
"This is my first moment of bad PR and I wanted to know what my TikTok friends think," she shares. 
She explains that she has many employees that work for her firm, including a managing attorney named Kylie who has worked with her for years. 
Kylie is a mother of four-year-old twins, who often need to be picked up from school or have to stay home completely due to constantly getting sick. 
"This was a huge problem for her last year," Billlie says. 
In order to help Kylie out, Billie created a job posting to hire her a legal assistant who could also provide childcare. 
"That person would assist her [Kylie] with her legal duties… but if Kylie's kids got sick, that person would stop being a legal assistant, because Kylie already has a full-time paralegal, and she would go pick up the kids and help watch the kids so that Kylie could still do Kylie's job as a managing attorney," she explained.
However, Twitter users slammed the job as 'absurd,' calling it 'sexist' and 'not very modern.' 
Billie on the other hand feels the opposite way.
"I think that moms and dads have to juggle parenting and professional responsibilities all the time," she argues. "It doesn't make sense for Kylie to have an on-call full-time nanny while she's also paying for her children to be in school full-time." 
Billie calls herself a "modern employer" who is helping Kylie with a "super progressive" solution. 
She clarifies that she would not be asking the recipient of the job to be performing two duties at once and if the kids needed to be mentioned then they would be relieved of their legal assistant duties. 
She adds that many people disagreed with the pay range, which was originally listed at $14-$24 an hour. She has since changed it to $20-$24 an hour. 
"Would I be better off just telling my lawyers to figure it out on their own, because I, their employer, don't care enough about them as a human to solve their whole problem?" Billie asks viewers. 
"Or, am I right, and this is a super progressive, super great way to handle your employees and invite an entry-level professional from childcare into the legal world?" 
TikTok users praised the job Billie was proposing and found it to be progressive. 
"I think it's brilliant! How in the world is empowering a working mom sexist?" one user commented. 
Related Stories From YourTango:
"Omg, I wish you were my boss!! How amazing!!" another user wrote. 
"You're 100% right and it is great of your firm to provide this for her!" another shared. 
Others noted that if people disagreed with the job description, they did not have to take on the role. 
"If the person doing the job isn't upset about what their duties include, why is everyone else upset about it?" one user pointed out. 
"Who wouldn't love skipping drafting motions to go buy three-year-old Disney pajamas," another added. 
Billie shared on her Twitter that ever since her TikTok video gained popularity, there have been over 60 applicants who are interested in the job. 
Megan Quinn is a writer at YourTango who covers entertainment and news, self, love, and relationships.