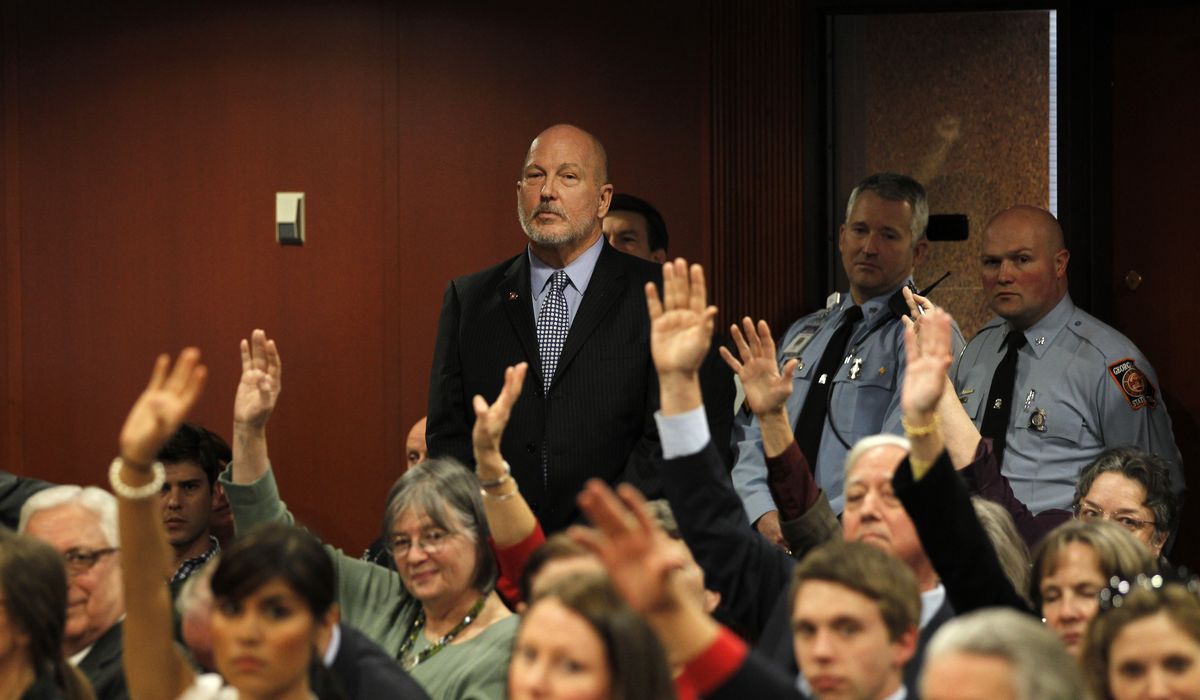 Southern Poverty Law Center 'hate' list suffers legal setback
The Southern Poverty Law Center's famous list of "hate" groups is under fire in a courtroom in Alabama, where a judge has opened the door for a group that opposes illegal immigration to challenge the SPLC for slapping it with the Scarlet H.
The Georgia-based Dustin Inman Society and founder D.A. King say they work against illegal immigration but have no problem with legal immigrants. Indeed, some legal immigrants are on the organization's board, and Mr. King's adopted sister is an immigrant.
He says it's defamation for the SPLC to call him an "anti-immigrant hate group."
The SPLC asked a judge to toss the case, but U.S. District Judge W. Keith Watkins refused in a ruling last week. He said Mr. King should have a chance to develop his case and seek more evidence against the SPLC through discovery.
"Plaintiffs have 'nudged' their defamation claims — premised on SPLC's designation of DIS as an 'anti-immigrant hate group' — 'across the line from conceivable to plausible,'" Judge Watkins wrote.
Mr. King still has a high hill to climb. Defamation cases are almost impossible to win, particularly for those deemed "public figures," as Mr. King acknowledged he is for this case. To prevail, he must prove that the SPLC was wrong and showed "actual malice" in making the claims.
But Tyler O'Neil, author of "Making Hate Pay," an examination of the SPLC, called the judge's ruling "monumental."
"This is the very first defamation lawsuit specifically challenging the SPLC's 'hate group' accusation to make it to discovery," Mr. O'Neil said. "Conservatives who have faced routine defamation may finally get some justice, and the American people may finally see behind the curtain how the SPLC runs its 'hate group' scam."
The SPLC holds itself out as the ultimate arbiter of domestic hate groups, and those on the political left widely cite its list as evidence that some groups deserve to be silenced. The FBI has cited the SPLC's work in its decisions about whom to target — including a recent memo from the FBI's Richmond, Virginia, office urging agents to keep an eye on those who ascribe to "radical traditionalist Catholic ideology."
After it came to light, the bureau was forced to recant the memo.
The SPLC's work used to be universally praised, but it has become more controversial as the organization has expanded its hate label beyond traditional violent racist organizations such as the Ku Klux Klan and neo-Nazis to snare conservative Christian outfits and groups that advocate for stricter limits on immigration.
In its legal briefs in Mr. King's case, the SPLC has acknowledged that its labels are less science and more a political argument.
SPLC attorneys said the First Amendment's free speech guarantee protects opinions, so the organization cannot be held liable for defamation.
"SPLC's anti-immigrant hate group designation is not capable of being proved false, but is an opinion expressed as part of a political debate," the organization argued.
The SPLC questioned whether there can be a fixed definition of hate or being "anti-immigrant." If there is no definition, then there is no standard to judge the SPLC's argument as false.
But Judge Watkins, appointed to the bench by President George W. Bush, said that doesn't wash, at least for the anti-immigrant label. He said there is a fixed definition of "immigrant" in federal law, so it's easy to figure out what anti-immigrant means. That should be clear to "SPLC's attorneys, who encompass some of the brightest legal minds in the country," he wrote.
So the inference of the anti-immigrant label is that the Dustin Inman Society and Mr. King hate legal immigrants, including those who have become citizens.
Mr. King says that's ridiculous for many reasons — not least of which is his adoptive immigrant sister, the immigrants who are on the society's board and his organization's repeated statements that its chief goal is to reel in illegal immigration.
In an email to The Washington Times, Mr. King said he and the Dustin Inman Society already have achieved something with the lawsuit by getting the SPLC to acknowledge that its vaunted hate list is a statement of opinion, not fact.
"They have already told a federal court that their 'hate group' designation doesn't mean the designation is factual. We hope to allow the SPLC to expose themselves in court," he said. "We want an apology and a retraction. We hope one of the violent SPLC followers doesn't get to us before the trial."
In 2012, a mentally ill gunman inspired by the SPLC's list attacked the Washington office of the Family Research Council, wounding the building manager who wrestled the man to the ground.
SPLC has apologized for some of its work, including a 2015 listing of Republican Ben Carson as an extremist and a 2018 settlement with a Muslim activist, Maajid Nawaz, whom it oddly labeled an anti-Muslim extremist. SPLC acknowledged that it didn't do enough to learn about Mr. Nawaz's organization before using the label.
The Times contacted the SPLC for this report and got a response in an email intended for internal use.
"I thought we are not commenting and we shouldn't for the Washington Times. I met with Sybil yesterday and we are working on a communications plan," SPLC Chief Communications Officer Julian Teixeira wrote in an email to a colleague — which he also sent to The Times.
Sybil Hadley is SPLC's general counsel.
A key part of Mr. King's case is the SPLC's changing narrative on the Dustin Inman Society.
In 2011, the SPLC specifically said the society didn't meet its definition of a hate group. Heidi Beirich, who ran the SPLC's intelligence project, told The Associated Press the organization saw Mr. King as a "nativist" but not a hater.
"His tactics have generally not been to get up in the face of actual immigrants and threaten them," she said. "Because he is fighting, working on his legislation through the political process, that is not something we can quibble with, whether we like the law or not."
In 2017, though, Ms. Beirich told the Atlanta Journal-Constitution that the SPLC would take a new look at the group after the newspaper told her that the society had ties to U.S. Inc., a group founded by John Tanton to advance immigration restrictions.
By 2018, the hate label had been applied.
Mr. King argues that the only change was that the SPLC began lobbying in Georgia against legislation cracking down on illegal immigration, which meant it was now going toe-to-toe with Mr. King and the society. The anti-immigrant "smear" came soon afterward, he said.
"This came as a big surprise to the immigrants on our board and our immigrant donors," he said.
Ms. Beirich, who left the SPLC and founded the Global Project Against Hate and Extremism, didn't reply to a request for comment for this report.
Other groups targeted by the SPLC are watching the case.
Among them is the Center for Immigration Studies, a Washington-based think tank that argues for stricter immigration limits, which the SPLC labeled an anti-immigrant hate group.
"That happened, literally, right after Trump was elected. In other words, it was a clear political decision on their part," said Mark Krikorian, the center's executive director.
He said the SPLC's hate designation can take a toll on fundraising and exposure and that some news outlets are now reticent about seeking out the center's perspective on issues.
Mr. Krikorian said that if Mr. King prevails, "every other group that has been attacked with this label will be able to use the ruling to jujitsu SPLC and delegitimize it."