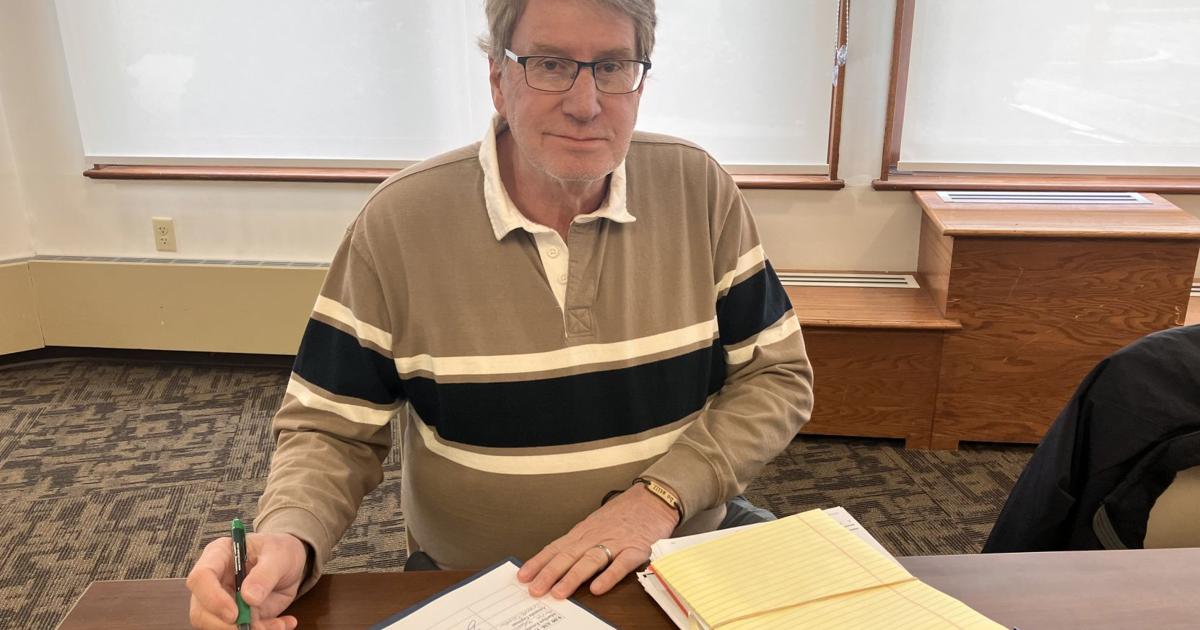 Lawyers give free legal advice in Angola | Heraldrepublican
ANGOLA — The annual Talk a Lawyer Day was the Steuben County Bar Association's effort to provide free advice in honor of Martin Luther King Jr. Day.
It took place in Carnegie Public Library in Angola Monday. Anyone could get free legal advice in various types of the law.
Attorney James McEntarfer said that although some of the bar associations do similar events over the phone, Steuben County Bar Association still considered it was better to have that type of an event in person.
"We have local attorneys volunteer their time historically and again this year," McEntarfer said.
He explained that the annual event is organized through the Steuben County Bar Association and Northeast Indiana Volunteer Lawyer Program. In the past, the person who was responsible for organizing the program was a local attorney Mike Morrissey, who was on the Board of Directors for the Volunteer Program and who passed away last year.
President of the Steuben County Bar Association Marylyn Ernsberger said that last year, the event was done in the memory of Morrissey, and after that, all the local attorneys of Steuben County wanted to keep the event going. The program, McEntarfer said, started before 2000.
"Everybody enjoys coming down here and volunteering their time," said Ernsberger.
For this reason, this year the program was organized by attorney and Volunteer Lawyer Program Board Member Jonathan Cress, who took over the responsibilities of overseeing Talk to a Lawyer Day in Steuben County.
"I think it's important for attorneys, especially in small towns, to be able to give back," said Cress.
He said that the areas of law that they were asked to consult more often on during those Talk to a Lawyer events were criminal and family laws, state planning, and civil law in forms of contract disputes, like landlord-tenant disputes.
Cress said that the event was still organized under the auspices of Northeast Indiana Volunteer Lawyers program, which is based in Fort Wayne, and the board of which consists of attorneys from Allen, DeKalb, LaGrange, Noble and Steuben counties.
"It provides a resource for individuals who … cannot afford legal representation," said Cress.
Cress said often those individuals who come to seek help on free lawyer days get pointed to pro bono services, if they qualify for them. He added that the voluntary lawyer program had also set up a landlord-tenant service for low-income individuals running every other Tuesday in Steuben County.
This year Talk to a Lawyer Day in Steuben County had almost full participation, said McEntarfer, and that meant that almost all attorneys that practice in Steuben County, which is between 12 and 16, volunteered their time for two-hour time slots.
"We will have between three and four attorneys for each two-hour time slot," said McEntarfer.
He said in the past years the number of visitors they served during Talk to a Lawyer Day varied due to weather conditions, but it was typically anywhere between 20 during adverse weather conditions to 40 people.
"If you look at two or three attorneys each seeing two or three people you may get a total for a day serving people that come in anywhere from 30 to 40," said McEntarfer.
Some lawyers had more than two or three people they helped in their two-hour slots. Ernsberger said she had seen six people on Monday.
McEntarfer said they were trying to serve the guests on Talk to a Lawyer Day to the best of their ability because that was the service that they wanted to get to the public that could not afford it.
"I believe and I think most attorneys believe it is an obligation we have as licensed attorneys to give pro bono advice and to provide advice to the members of the public," said McEntarfer.
Ernsberger said that she was doing this pro bono service as a way to give back to the community. She said that the informal atmosphere of the event was conducive to making it more comfortable for people that might be too intimidated to set up an appointment at a law office.
"At least we can point them in the right direction," Ernsberger said. "Sometimes we can't solve all their problems, but we can at least give them some advice to point them where they need to go."
For more information on free legal advice available in Steuben County and beyond, please visit http://www.vlpnei.org/about/.