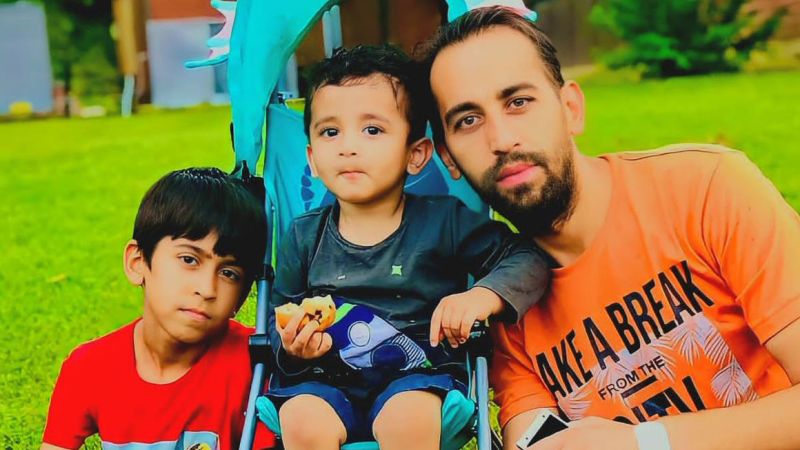 Afghans living in the US face key immigration deadlines 18 months after US military withdrawal

Los Angeles
CNN
 — 

Rahman, 3, has lived half his young life in Los Angeles – without his mother.
They see each other, sometimes, via video chat from Kabul, Afghanistan.
"I see my kids on camera, but I cannot touch them," his mother said recently from a home she may not leave without a male chaperone in a city where daily electricity use is rationed.
"Sometimes (Rahman) come and he say, 'Mama,'" she told CNN. "But sometimes he don't (because) he doesn't see me" in person.
As his parents fear their squirmy toddler may be forgetting she's his mom, there's no telling when he might see her again face to face.
Nearly 18 months after the US military withdrawal, Rahman and his dad, Ahmad Roman, are among perhaps thousands who – after getting out of Afghanistan in the chaotic final days before the Taliban reclaimed control – are still trying to reunite in the United States with loved ones stuck back home.
Beyond the heartache of separation and the fear over human rights crackdowns, they face a dearth of reliable information about the American immigration process as key deadlines for staying here approach, said Afghan families, advocacy groups and attorneys.
Among them are unaccompanied minors whose parents are still in Afghanistan, said an immigration lawyer at Women for Afghan Women whose unit is trying to help 400 families separated from immediate relatives – most at the Kabul airport, the epicenter in those final days of so many desperate and deadly scrambles for freedom.
The US government initially coordinated "evacuation procedures for their parents and add(ed) their name to evacuation flights," attorney Sanam Ghandehari said. "However, after more than one year, none of my minor clients have been reunited with their parents yet and still no hope for their reunification in near future."
Others who fled and took a chance with the US diversity visa lottery also face complications as families might have grown beyond what an initial application reflected and arrival schedules remain in limbo.
It took Roman the better part of a year to even understand which resources might help him bring his wife and daughter to the United States, he told CNN, adding he's now in touch with a State Department team that is trying to help.
He also filled out a new federal form – DS-4317 – that lets humanitarian parolees apply for immediate family members to join them in the United States. But neither he nor his attorney has gotten information about next steps or an estimated processing timeline – a complaint echoed by other Afghan families, their lawyers and advocates.
Meanwhile, Roman is among Afghans who face the possibility of losing their diplomatic parolee status as the second anniversary of the US withdrawal approaches. He's applying for asylum, he said, though he thinks that could take years – yet another uncertainty for this father with children on both sides of the globe.
Still, Roman said: "We have one thing that makes me strong – that's hope."
The US State Department has "already resettled thousands of Afghans, reunited families, and welcomed them into our communities across the country, demonstrating the very best of the American people's generosity," it told CNN, noting the tally of those "who wish to depart Afghanistan fluctuates regularly as people change their minds about leaving."
Logistical challenges at times have hampered efforts to process and approve people's flights out of Afghanistan. Trips through Qatar have restarted after they were paused from November through January due to the World Cup, a State Department spokesperson told CNN. The department also is working to confirm whether the Taliban is preventing women from boarding relocation flights without a male chaperone.
In any case, it is a race against time, Ghandehari said: "Many Afghans, who served or cooperated with US military, NATO and/or former Afghan government, are living in hiding in Afghanistan. They move frequently to avoid being identified.
"Unfortunately, we have learned about many family members of our Parolee clients who have been arrested, tortured or even killed because of their employment background while waiting to be reunited with their families," she said.
Abdul Mukhtar feared in late August 2021 the Taliban would come after him and eight relatives. His wife taught law at a university. He taught political science and spoke out in mosques against radicalism, discouraging extremism in Islam.
That's why they went that August 26 to the Kabul airport, joining thousands trying to wade through a lake to an airport gate, he recalled to CNN. But it was hot, with no water or food, so Mukhtar paid someone near the airport for space in a home for his wife and child to stay cool.
"I will keep my wife and my son right here, till I come back with news," he said he told the homeowner before heading back and eventually, from the dirty water, getting the attention of a soldier, who took his hand and pulled him up.
He started to explain his uncle was already inside.
Then, a blast tore open the day.
A bomb.
Mukhtar fell as ball bearings exploded through the packed crowd, killing some 170 Afghans and 13 US military personnel.
Time vanished. For how long, Mukhtar may never know. But soon, from his void, he heard a voice.
"Hey, wake up," the husband and dad recalled hearing as blood came from his nose and ears. "Are you OK? Are you OK?"
"Where's my family?" he asked. "Where's my family?'"
As night fell, soldiers told Mukhtar and others they had to decide: Get on a plane now, or stay.
"The security situation is not it is not under control," he recalled being told. "We cannot guarantee anything. If you're trying to find your family, if you're trying to find your loved one, if you're trying to join them, this is not a safe place for you to wait."
So, he got on a plane to Qatar. From Qatar to Germany. From Germany to the United States.
At each refugee camp, he offered his translation skills, hoping those in charge would help him quickly move along. And at each new camp, he searched furiously for his wife and son, thinking they might have gotten on another plane out of Kabul.
It wasn't until more than week after he left that Mukhtar finally managed to reconnect with his wife: She was still in Afghanistan, she told him – and pregnant with twins. Soon, several of Mukhtar's relatives went into hiding together in northern Afghanistan. And later, when his wife gave birth there – with no medical aid – one of the twins died.
"I blame myself that I am the reason that they are far away from me," Mukhtar said. "And I am the only reason that they are suffering all those pain."
A glimmer emerged when Mukhtar's wife won a spot in the US diversity visa lottery. But with a new child, more work had to be done to update the visa application and get the baby a passport. And still, Mukhtar has no timeline for when his wife and sons can join him.
Just in case, he has filled out every available form from the State Department that supposedly allows separated families to apply to be reunited.
There are times, he said, when hope dims.
"I totally lost that faith. But I just keep fighting for nothing," he said. "I'm alive because of them. … I have no choice. I have to fight for my family."
It was also fear of the Taliban that drove Roman, who had worked for the Afghan government, and 11 relatives – some who'd worked for the US Embassy – to head for the Kabul airport on August 16, 2021.
But when they managed to get past chaotic crowds onto large cargo planes, Roman and his wife couldn't find their older son, Uzair, so they got off, their daughter holding hands with her mother; CNN is not naming Roman's wife and daughter for their safety.
At least a thousand people crowded onto the airport grounds, some even stepping over the young and the elderly, Roman recalled.
After a long struggle, they realized Uzair already had boarded a cargo plane – with Roman's brother-in-law, who had little Rahman in tow. But by then, Roman's wife and daughter had been pushed past the gates – and no one would let them through.
When Roman finally got his wife on the phone, "I told (her), 'Because of the kids, I need to take the plane.'
"'Yes, you have to take the plane,'" she replied.
Roman hoped his wife and daughter would be on the next plane out, he said. Then, he saw headlines announcing the last US troops had left Afghanistan.
The path ahead, he knew then, would be far more challenging.
As Roman waits for the US immigration papers to process, he doesn't know if his daughter in Kabul can continue her schooling, he said, since the Taliban changes the rules frequently, sometimes between morning and night.
His wife knows her two sons have a much better life in the United States, she said. But the reality isn't always easy to embrace from her side of the video chat.
"From one side, I'm happy. But from other side, I cannot touch them," she said of her boys. "I cannot give them a hug."